Post surgery rehabilitation musculoskeletal conditions
Post surgery rehabilitation musculoskeletal conditions
Post-Surgery Rehabilitation
The hard work starts post-surgery, and we know how important it is to get it right. K7 Physiotherapy has the experience and expertise to guide the individual through all phases of rehabilitation, to achieve maximum recovery within the shortest possible timeframe. The individual's personal goals become our focus.
We have the experience and expertise to offer guidance through all stages of rehabilitation.
We commonly treat the following conditions; however, this list is not exhaustive:
Joint replacement – hip, knee, shoulder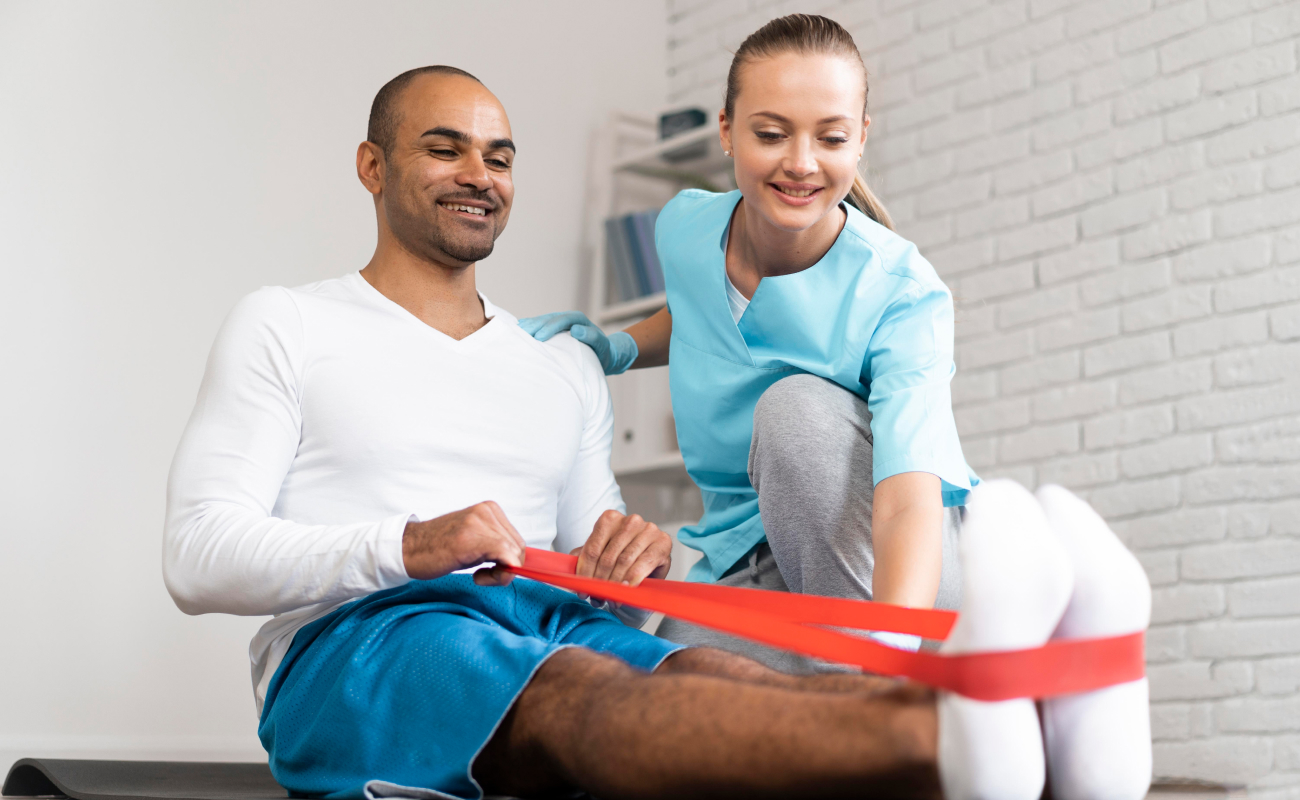 The hard work starts post-surgery, and we know how important it is to get it right. K7 Physiotherapy has the experience and expertise to guide the individual through all phases of rehabilitation, to achieve maximum recovery within the shortest possible timeframe. The individual's personal goals become our focus.
We have the experience and expertise to offer guidance through all stages of rehabilitation.
We commonly treat the following conditions; however, this list is not exhaustive:
Joint replacement – hip, knee, shoulder
• Joint arthroscopy (keyhole surgery) – ankle, knee, hip, shoulder, elbow
• Tendon repair – rotator cuff, hamstring, Achilles, quadriceps, patella tendon
• Ligament reconstruction – knee ACL, LCL, MCL, PCL, ankle, shoulder, elbow Spinal surgery discectomy, laminectomy, fusion
Those early days following surgery are crucial for rehabilitation. This window of opportunity is quite small when someone is discharged from the hospital, and rehabilitation has to continue in the community. Due to recent pressure on community services, obtaining an appointment with a therapist has become more difficult.
We at K7 Physiotherapy fully understand the need to continue rehabilitation in the community following discharge from the hospital. Therefore, we prioritize post-surgical patients and offer them a timely appointments to help them achieve full-function potential and quality of life.
Musculoskeletal Conditions
What are Musculoskeletal Conditions?
Musculoskeletal conditions affect the muscles, bones, and joints. They also include rare autoimmune diseases, back pain, shoulder pain, neck pain, hip pain, knee pain, and ankle pain.
What is musculoskeletal physiotherapy?
Musculoskeletal physiotherapy is a specialized area of physiotherapy focusing on the biomechanical and structural rehabilitation of the individual. Musculoskeletal physiotherapy mainly concentrates on muscle, joint, and soft tissue problems due to the:
• Arthritis
• Cartilage tears
•Muscle strains
• Ligament sprains
• Pain
The main symptoms of musculoskeletal conditions are:
• Recurrent pain
• Joint stiffness
• Swelling